1998-2010
Keys to Research
The Word of God interprets itself.
To understand God's Word certain keys to research must be understood and applied when working the Word to avoid private interpretation and maintain the integrity of the original text.
These studies and quizes are provided to highlight some of the simple keys to understanding God's Word.
Michael Cortright
ekklesia@cortright.org
Volume 1 No.2 - The Scope of God's Word
The Subject, Administrations, To Whom Written, and The Order of The Epistles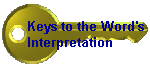 Keys Index Page
---
Cortright Fellowship Homepage
---
Knowing this first, that no prophecy of the scripture is of any private interpretation.
II Peter 1:20

Keys to the Word's Interpretation
URL http://www.cortright.org/key2quiz.htm
© Copyright January 1998; 2010 Michael Cortright