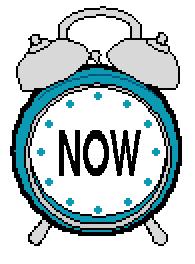 IS THE TIME
Here's a simple way to open a meeting:

Hide a softly ticking clock somewhere in the meeting room.
Along with it, hide the opening verse for your teaching or activity.
When the kids arrive, they'll look quietly for the clock and verse.
When it has been found, everyone sits, and the child who found it reads the verse (or he can choose someone to read the verse if he doesn't read).
VARIATIONS:
Hide a question or the name of a song.
---
Return to Crafts & Activities Page

Cortright Fellowship Homepage
URL http://www.cortright.org/kidact8.htm
© Copyright July 2000 Christine Cortright