"Flipping Over Letters"
A BINGO-type game in which players turn over colored cards.
The card turned over must match the both "letter" and the "color" called.
---
Materials needed:
1 set of S-I-T letter cards for each player
Scissors
Crayons (Red, blue, green, and yellow should be enough for a small group.)
A COMPLETE SET of small cards containing one "S," one 'I," and one "T" of each color
---
Each child uses a set with a unique color pattern.
For example: SIT, SIT, SIT, SIT, SIT could be sets belonging to five players.
(Children may color their own sets.)
---
PLAY OF THE GAME:
With cards in front of each player, the leader calls out letter and color as it is drawn from the COMPLETE SET.
For example, the leader calls out "Blue-S," and the child with a Blue-S in his set turns it over.
The first player to turn all of his cards calls out "S-I-T, sit."
---
Here are the cards to cut out and color for each player: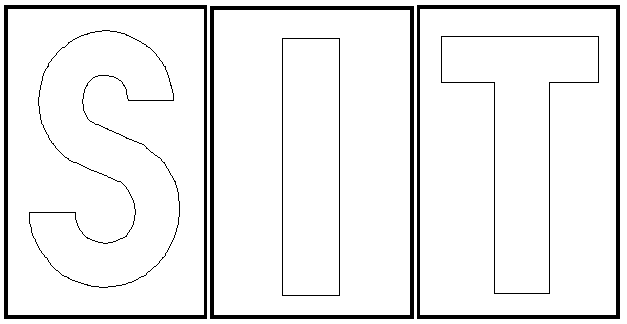 ---
---
Return to Crafts & Activities Page

Cortright Fellowship Homepage
URL http://www.cortright.org/kidgam1.htm
© Copyright 2000 Christine Cortright